Learn from the Library of Books by Jill and Mark Savage
My Heart Is Broken
What if you could find peace even after discovering your spouse has been unfaithful?
Christian author and speaker Jill Savage found herself reeling from the discovery of her husband's infidelity. It was part of one very dark year that included a four-month separation.
Their marriage survived and became stronger than before. They now share their story openly as authors, speakers, and marriage coaches to help others who are walking through their own dark season.
After answering hundreds of emails and Facebook messages from brokenhearted men and women whose spouse had betrayed them, Jill put together this short, easy-to-read book that will give you the wisdom and encouragement you need to find your footing in the chaotic mess you've found yourself in.
My Heart Is Broken will help you:
Find a peace even in the middle of the mess.
Understand what forgiveness is and isn't.
Reframe your pain in a way that helps you move forward.
See your spouse in a way that allows healing to happen.
Understand you're not alone.
This little, but power-packed, faith-based book will provide the hope and the help you desperately need.
I Really Messed Up
What if your marriage could not only survive but really thrive after an affair?
Mark Savage found himself in the middle of a mess. One that he created. After twenty years of full-time ministry, Mark had launched his own construction business. His outer world was expanding, but his inner world was crumbling.
Another relationship seemed like the answer to his problems, until it wasn't.
When he recommitted to his marriage, that's when the work of healing really began. This book is not written by a psychologist or a counselor but rather from someone who's been where you are and found his way out. If you've stepped out of your marriage, this book is for you.
I Really Messed Up will help you:
Explore the thinking that has gotten you where you are and replace it with thinking that will get you where you want to go.
Understand what it takes to heal your spouse's heart and rebuild trust.
Clarify accountability and how you can provide it without your spouse "policing" you.
Reassure your spouse when fears threaten to take over.
Remain humble and emotionally steady as you navigate the healing journey.
This little, but power-packed, faith-based book will provide the hope and the help you desperately need when you've messed up and been unfaithful in your marriage.
Empty Nest, Full Life
IT'S HAPPENING! You weren't always sure you'd get here, but the kids grew up and are surviving—more or less successfully. But what now?! If you're like most moms, you're caught between grief and delight, and full of questions, loose ends, hopes, and regrets. Empty nesting can be a disorienting time, but it can also be the best time of your life.
Jill Savage, an empty-nest veteran, offers you
WISDOM for the murky waters ahead. Teaching you what you need to let go of and hold on to
ENCOURAGEMENT for when you're feeling confused and discouraged. Full of stories and new insights, you'll find your spirits lifted and hope renewed.
IDEAS for when you don't know "What's next?" Jill offers loads of practical ideas for coping and thriving in this encore season.
An accompanying journal is also available!
Empty Nest, Full Life Journal
This inspiring journal is the perfect companion to the book Empty Nest, Full Life, by Jill Savage. Designed with ample space for writing or drawing, this journal will help you slow down, reflect, and record your thoughts as you work through the book. Questions posed in the book are carried over in the journal for you to ponder and write your thoughts, dreams, and plans. The book and accompanying journal is a great gift to give yourself or someone you know who is in or transitioning to the empty nest life!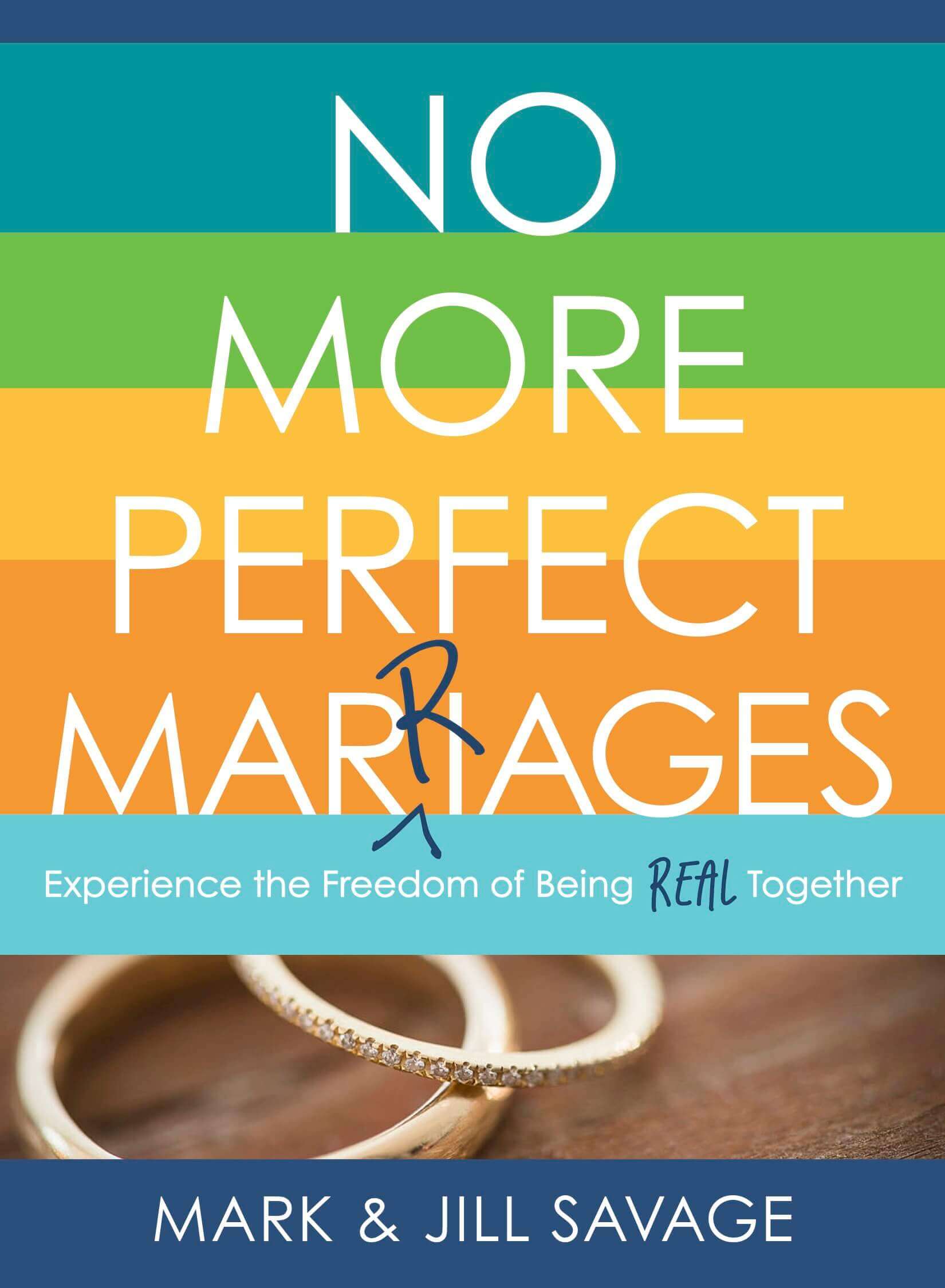 No More Perfect Marriages
"A real marriage isn't perfect. A real marriage is two people being perfected."
If you feel like the spark is gone, like a critical spirit has invaded your marriage, like you want more intimacy but something is in the way, you could be suffering from the Perfection Infection.
The Perfection Infection happens when we cultivate unrealistic expectations of ourselves and our spouse, gradually leading to intimacy-killing behavior, also known as the "Seven Slow Fades." That was the case for Jill and Mark Savage, and in No More Perfect Marriages they guide you in everything you need to know to kick the Perfection Infection right out and return to intimacy.
In their warm, honest, personable style, Jill and Mark will help you:
Discover how the Perfection Infection invades a marriage—even a good marriage
Detect and correct the Seven Slow Fades
Set and communicate realistic expectations
Know what to do if your spouse just won't change
Guard your marriage from the Perfection Infection for good
Hurting marriages can heal, and good marriages can become great. It takes work, yes, but No More Perfect Marriages will give you the insights, language, and roadmap you need for the journey!
Check out the No More Perfect website for the free 4-week No More Perfect Marriages E-Challenge and free video curriculum for personal or group study!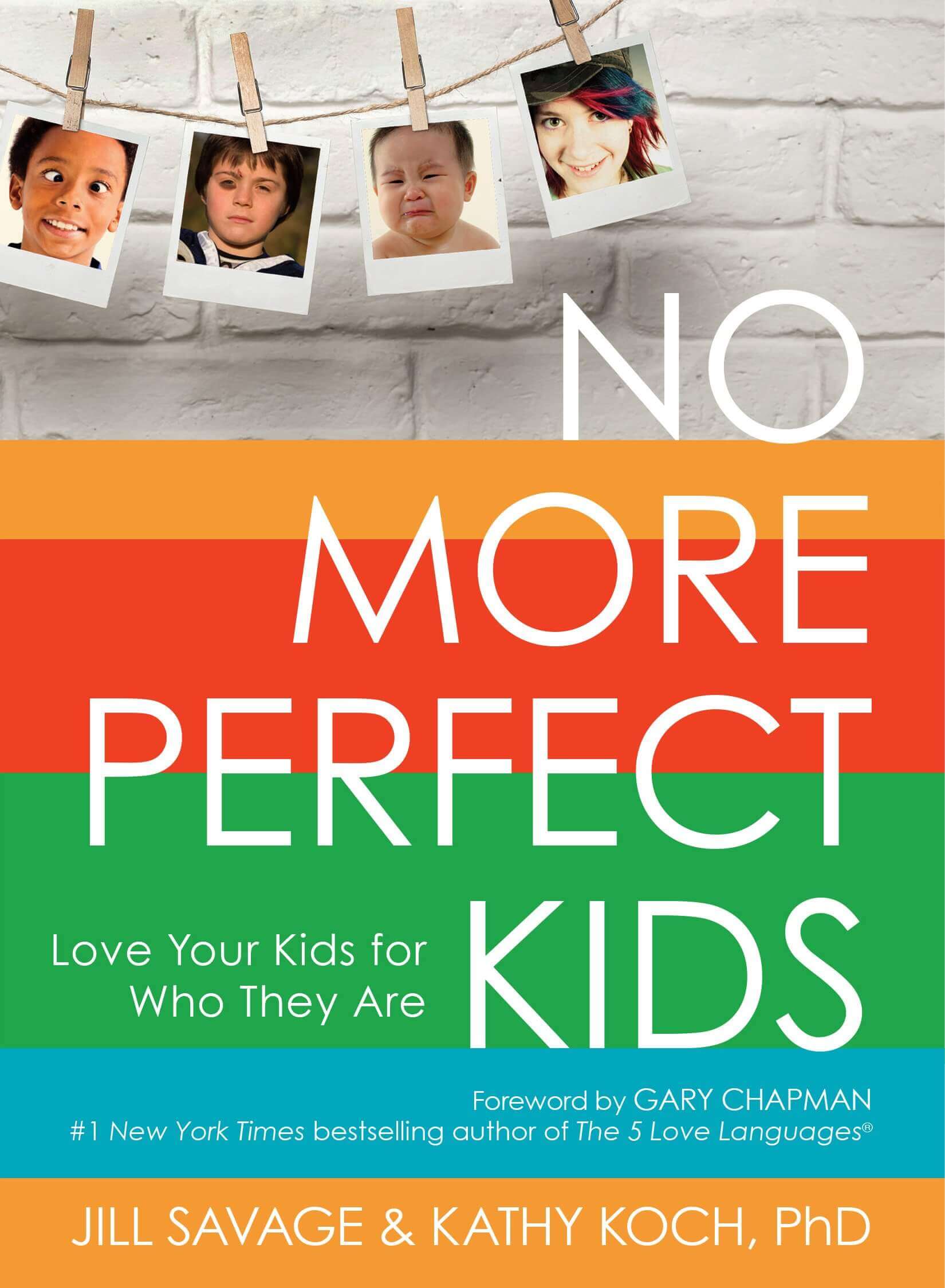 No More Perfect Kids
Mom and dad, your kids are created in God's image, not your own.
Jill Savage and Kathy Koch will guide you in truly appreciating your kids. They will teach you how to study and become an expert on your children, because you cannot fully embrace them until you truly know them.
One of the best gifts we as parents can give our children is to set them free to be all that God has created them to be—not forcing them to live out our dreams or comparing them to our friend's kid.
In No More Perfect Kids, Jill Savage and Kathy Koch equip us with the tools and perspective to:
Identify and remove the Perfection Infection from our parenting.
Really know each child so we can fully embrace their unique design.
Release our children from unrealistic expectations.
Answer the questions our kids are silently asking in a way that gives them the courage and freedom to be themselves.
Written in a passionate, candid, and personal way, the authors will instill within you hope and contentment. You'll be inspired to apply the practical, realistic, and relevant ideas and tactics Jill and Kathy share. (Leaders Guide included in back of book.)
Check out the No More Perfect website for the free 13-Day No More Perfect Kids E-Challenge, free video curriculum for personal or group study, and Family Activities to accompany the chapters in the book, and more!
No More Perfect Moms
If you've ever forgotten to pick your kid up from soccer practice or accidentally worn two different shoes to the grocery store, this book is for you. Being a mother is not for those who display symptoms of the "Perfection Infection."
There is simply no such thing as a perfect mom. And there are no such things as perfect kids, perfect homes, perfect bodies, perfect marriages, or even perfect meals.
With refreshing honesty, author Jill Savage exposes some of her own parental shortcomings with the goal of helping mothers everywhere shelve their desires for perfection along with their insecurities of not measuring up to other moms.
No More Perfect Moms will help you…
Change your unrealistic expectations to realistic expectations in order to better manage everyday challenges.
Give grace and love to your husband and children even in difficult family life circumstances.
Increase your confidence when you resist the urge to compare your insides to other women's outsides.
Discover the beauty of grace when you stop judging yourself and stop judging others.
Find freedom from disappointment when you embrace your real family, your real challenges, and your real, but imperfect, life.
Check out the No More Perfect website for a free 31-Day No More Perfect Moms E-Challenge, free video curriculum for personal or group study, and more!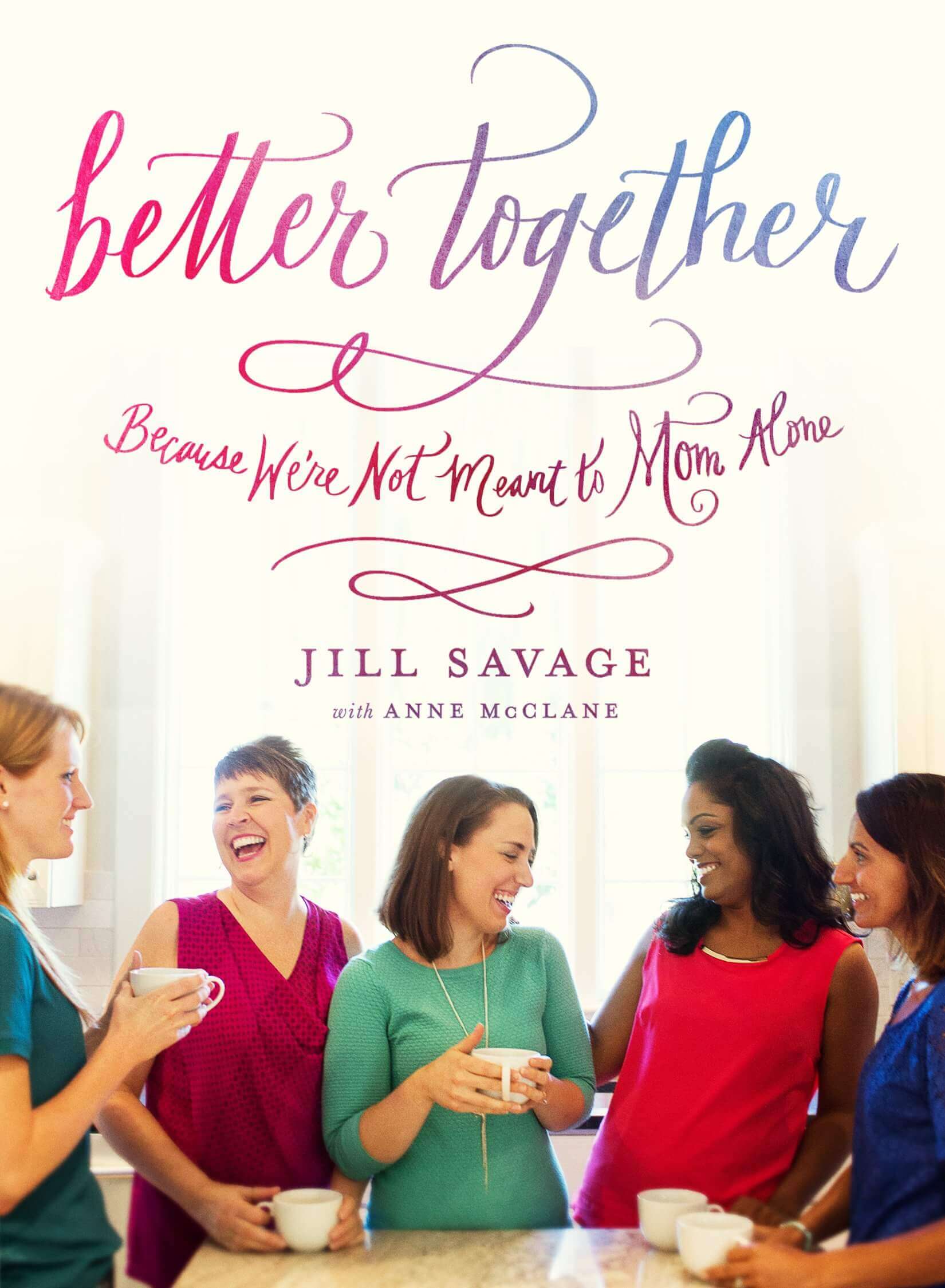 Better Together
Are you trying to do this mothering thing alone? Feeling isolated at times? So focused on the kids that you're wearing yourself out? Been hurt by past friendships? Jill Savage, mother of 5, and her daughter Anne, mother of 2, know those challenges well, and they're here to help.
Presenting a compelling vision of motherhood as a group effort, Better Together reveals how you can:
Increase your confidence in social settings when you stop the comparison game.
Combat isolation when you find or build a mothering community for mutual support.
Deepen your friendships when you learn from, pray for, help, encourage, and share with one another.
Strengthen trust when you drop your friendship baggage and forge new relationships with a new mindset.
Increase your joy as you discover you are truly a better mom when you don't mom alone.
Let's not make mothering harder than it has to be. Dive into this storehouse of creative ideas for how to make mothering easier, richer, and more fun than you ever thought possible.
Want to do Better Together as a group study? Free online videos and other accompanying resources are available at www.BetterTogetherBook.org!
Living With Less So Your Family Has More
In a society of "bigger is better," Jill and Mark Savage are countercultural in believing that living with less materially allows you to provide more for your family emotionally, relationally, and spiritually.
Jill and Mark, a husband and wife who have lived the less-is-more life for more than twenty years, provide an honest, straightforward approach to investing in the things that really matter, including:
Creating a long-term vision for your family
Identifying the attitudes and actions to live your vision out
Practical action steps to help you make small and big changes, from organizing coupons effectively to changing a career path or downsizing to a smaller home
Whether your goal is allowing parents to cut back work hours and stress, making it possible for one parent to stay home full-time, or simply making more time in the day for family, this book helps you redefine your priorities in order to keep family first. Discussion questions at the end of each chapter give a perfect conversation jumpstart for couples desiring to read this book together.
Is There Really Sex After Kids?
Moms may not ask that question aloud, but Jill Savage knows from her years of leading Hearts at Home conferences that no other workshop subject will fill a room more quickly. Having children at home does alter the sexual dynamic between you and your husband. Going from making dinner to making love and from practical mommy to passionate lover all in the course of one crowded evening, presents unique challenges.
Speaking from her experience as a wife and mother, Jill offers a warm-hearted woman-to-woman discussion—a true insider's look at what works to build intimacy outside the bedroom and improve intimacy inside the bedroom.
Practical, humorous, and heartfelt, this book gives you proven ways to restore intimacy, spontaneity, pleasure, and yes, passion in your marriage! Questions are included at the end of each chapter to guide personal reflection and a leaders guide is included at the back of the book for group discussions.
Real Moms Real Jesus
What does Jesus know about the peanut-butter-and-jelly life of a mom? Plenty! Jill Savage, founder and director of Hearts at Home, introduces the real Jesus to real moms.
In chapters that examine key behaviors and decisions Jesus made during His life on earth, Jill brings those lessons right down to the laundry-filled, sticky-fingered days every mother knows.
Throughout Real Moms…Real Jesus, Jill helps you see that you have a Friend and Savior who understands:
never getting time alone
high demands
lack of sleep
betrayal
disappointment
Between the chapters are interactive vignettes that turn the concept of the book back around. If the meat of the content is looking at Jesus' life on earth and understanding how to apply that in our everyday lives, these perspective vignettes are brief, refreshing glimpses starting with our own messy, busy lives.
Jill continually reminds the reader that Jesus is not an unattainable deity, but a Friend who understands. Includes leader's guide for use in group discussion.
My Heart's At Home
You can do amazing things within the four walls when your heart's at home. You treasure your family and long to help them become all they can be. Your role in your home is incredibly important…and incredibly complicated. Jill Savage, founder of Hearts at Home, understands the challenge of meeting the multifaceted needs of your family.
A mother of five, she shares from her own experiences and from conversations with other moms so that you can create a home that is a:
Safe place for the family to grow and blossom
Research lab for exploration of interests and talents
Church where prayer and love guide all members
Trauma unit to care for the bumps and bruises of life
Rest area for refreshment and renewal
Practical ideas, grace for mistakes, and spiritual insights fill these pages. Be encouraged, Mom. When your heart's at home, your home will fill your heart in more ways than you'll ever know. Includes a leader's guide for use in group discussion.
Creating the Moms Group You've Been Looking For
People in all professions know the importance of networking. How about you? Are you enjoying the support and connection you need in the most demanding career of all—motherhood? You can. Whether you're improving the group you're already in or starting one from scratch, building a group for mothers is practical, doable, and indescribably rewarding.
Here are the guidance and resources you need for a "can-do" attitude. Drawing from years of experience, Jill Savage offers a resource manual packed with vision and a wealth of ideas. You'll find sage, road-tested, upbeat advice on:
Different kinds of groups
Mentoring and accountability relationships
Attracting members
Training leaders and volunteers
Handling conflicts
Policies and procedures
Arranging for childcare
Gaining church support
Bible study and prayer
…and much more!
Motherhood is an incredibly important and rewarding profession. You don't have to do it alone. The supportive and trusting relationships you long for are within your reach and some will last a lifetime.
Chockful of resources, Creating the Moms Group You've Been Looking For will help you and other moms like you make friends, grow in faith, sharpen your skills, and keep your sanity amid the frantic pace of raising children. Click here to view the table of contents and read the first chapter!
Got Teens?
Got Teens? Tweens? Help is here. Jill Savage and Pam Farrel have raised teenagers and now they provide practical and emotional support for all the roles of your challenging job.
There's Mom as CFO: "Should I pay for gas in her car?" As Launching Pad: "Do I let him go with his friends to the lake?" As Shepherd. "Why is my good kid making bad choices?"
With the commonsense solutions and creative ideas in Got Teens? you'll learn how to:
discover heart issues behind behavior problems
discuss the guy-girl thing intelligently
walk alongside a prodigal in pain
equip your child with people skills and life skills
impact your child spiritually
Proven tools such as the mom group guides, Mompower Prayers, and ideas for creating a teen-relationship contract prepare you to give direction and demonstrate God's love during your child's formative years of transition to adulthood. This is the perfect guidebook for moms of kids from 12 to 22. Includes a leader's guide for use in group discussion.
Professionalizing Motherhood
"Just a mom?" There's no such thing. Motherhood isn't a second-rate occupation. It is a career that can maximize your talents and strengths to their fullest.
Look past the surface of mothering—the endless tasks and frantic pace—to the incredible skills required to raise your children while nurturing your marriage. The truth is clear: You're a professional in one of the most dignified, demanding, and rewarding fields any woman can find.
Upbeat, candid and engaging, Professionalizing Motherhood will do more than help you radically redefine how you see yourself. It will guide you toward practical development as a career woman who specializes in the home. Jill Savage helps you determine a strategy and set goals for professional training and growth.
From the foundational to the practical, you'll learn about:
Establishing your mission
Developing a network of "coworkers"
How marriage and mothering work together
Organizing and homemaking basics
Taking care of your personal needs
Discovering your value in Christ
Professionalizing Motherhood casts a fresh and meaningful vision for mothering as a worthy career choice for this season of your life. Each chapter ends with questions to guide your personal reflection and a leader's guide is included at the back of the book to be used in group discussions.