The Inside Scoop
Jill loves peanut butter  Peanut butter on bananas, melted peanut butter on ice cream, and peanut butter on a spoon (who needs bread?)
Mark loves coffee–black, the bolder the better!
Jill doesn't like nuts in anything. She says "Hard things like nuts should never be in soft things like brownies."
Mark loves nuts in everything…cake, brownies, and more!
Jill taught piano and voice lessons for 15 years. Stopped after child #4 came along and the older kids were entering their teen years.
Mark was a pastor for twenty years and then owned his own construction business for ten years.
We live in a 109-year-old farmhouse out in the country. We say we have the best of both worlds: We live in the middle of cornfields where it's quiet and beautiful…but we're only two and a half miles from Walmart!
Jill loves history and when we go to a museum she loves to read every word on the displays!
Jill hates to shop. Mark loves to shop.
Jill would never buy new clothes if it wasn't for a husband who makes her give up things like the purple bathrobe she wore for 22 years (She'd had it since high school and he made her get a new one on our 20th anniversary. It didn't even have any holes in it!)
No coffee for Jill, she's a tea lover…especially Good Earth Original Tea and Tazo Passion Tea!
Jill's an introvert…she gets refueled by being alone. Mark's an extrovert…he gets refueled by being with people.
We love Jesus with all our heart, soul, and mind! (Ok, you might have known that one! We don't usually keep that to ourselves!)
The Official "Introduction and Publicity" Bios
Jill Savage is an author and speaker who is passionate about encouraging families. She is the author or co-author of fourteen books including Professionalizing Motherhood, My Hearts At Home, Real Moms…Real Jesus, Living With Less So Your Family Has More, No More Perfect Moms, No More Perfect Marriages (with her husband Mark), and her most recent release Empty Nest Full Life.
Featured on Focus on the Family, Crosswalk.com, Family Life Today and Today's Christian Woman magazine, Jill is the founder of Hearts at Home, an organization that encouraged moms from 1994-2017. Jill and her husband, Mark, have five children, three who are married, and eight grandchildren. They make their home in Normal, Illinois.
Mark and Jill Savage are passionate about encouraging, educating, and equipping families. After serving in church ministry for twenty years, the Savage's are now meeting the needs of families as authors and speakers. Known for their honesty, humor, and practical teaching, Mark and Jill bring hope and encouragement to every audience.
Jill is the author of twelve books including Real Moms…Real Jesus and No More Perfect Moms. Together Mark and Jill have authored two books, Living With Less So Your Family Has More and No More Perfect Marriages. The parents of five young adult children, and grandparents of eight, the Savage's make their home in Normal, IL.
Our Story
We both grew up in Indianapolis, Indiana. Jill graduated from Avon High School and obtained her degree in Choral Music Education from Butler University. Mark graduated from Cardinal Ritter High School and obtained his degree in Family Ministry from Lincoln Christian University.
We married between Jill's freshman and sophomore years of college and by the time she graduated from college we were the parents of two children.
After Jill's graduation, we moved to Lincoln, Illinois for Mark to pursue his degree.
Unable to find a teaching job in the small community of Lincoln, Jill began to teach private voice and piano lessons and opened a daycare in my home.
While caring for other people's children, she found a new value for being at home for a season of time. Eventually, we moved to Bloomington, IL where Mark became a staff member of Eastview Christian Church and Jill eventually launched a moms ministry known as Mom2Mom. During this season, she changed her perspective of what she did every day from being "just a mom" to being "a woman committed to the profession of motherhood." This eventually became the foundation for the organization she would soon start called Hearts at Home.
Remembering the teaching conferences she attended as a college student, Jill began to look for mothering conferences. Finding nothing, she challenged the moms of Mom2Mom to consider producing a conference focused on the profession of motherhood. We began planning the first conference expecting 400 women in attendance. When 1,100 women walked through the doors we knew God had a bigger vision for this than any of us imagined. The organization encouraged thousands of moms for 24 years.
In 2000, we became church planters, starting Crosswinds Community Church in Bloomington, IL. Mark served as the Senior Pastor of Crosswinds until he transitioned to Teaching Pastor in the summer of 2009. In 2010, Mark transitioned out of church ministry. By 2011, he was in a dark place emotionally, spiritually, and relationally. As we now look back we know he was in a full-on midlife crisis, affair included. He eventually left Jill and the kids for several months. However, on Easter Sunday 2012 Mark had his own personal resurrection. He left the other relationship, recommitted to his marriage and family, and eventually came home. It took us two years to heal our marriage.
Eventually we began to share our story publicly–you can read our 10 day blog series where we shared important lessons learned on the journey of restoration. These are lessons that every married couple needs to know. Eventually, we wrote No More Perfect Marriages and created our No More Perfect Marriages Seminars, our Marriage 2.0 Intensive, and our Rebuilding Trust and The Wait Is Not Wasted courses to share even more of those lessons.
In August 2019, we took a step of faith as Mark closed down his construction company so we could commit ourselves full-time to marriage coaching and encouraging families through our writing and speaking. We've established JAMSavage Ministries (which stands for Jill and Mark Savage Ministries) that encompasses our speaking, writing, coaching, and marriage ministry.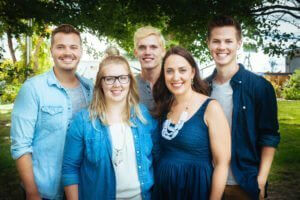 We have five children. Daughter Anne (37) is married and living in Central Illinois with her husband, Matt. She and Matt are the parents of two of our grandchildren, Rilyn and Landon. Evan (35) lives in Melbourne, Australia. Erica (30) is married and lives with her husband, Kendall, and daughter, Marie, in Central Illinois. Nicolai (27) lives in Central Illinois and Austin (25) and Larisa also live in Central Illinois. They are foster parents to two and have one daughter, Willa. 
We have a passion to encourage others! Comfortable in
 both business and church environments, you can find our speaking schedule and topics here and our marriage seminars here. If you're looking for our books, you'll find those here! Information about our Marriage 2.0 Intensive can be found here. Finally you can learn more about the coaching we offer here.